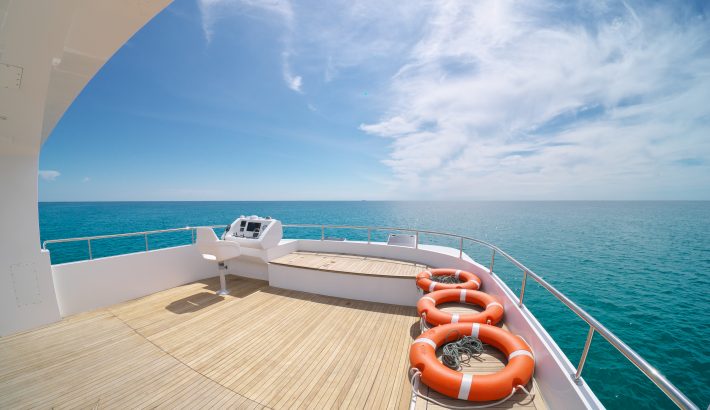 If you're ready to ditch your office job for something more exciting, and the sea is what calls you, then we've got some tips on how best to land a job on a superyacht. Yachting is not just a job, it's a lifestyle and a career, as the work doesn't start at 9 and end at 5 – it's twenty-four hours, seven days a week. So first of all, it's essential to make sure that it's a good fit for you.
Should this be your first job at sea, it will most likely be an entry-level crew member such as a deckhand/steward(ess), so you will be expected to work hard, be a good team player, and do what it takes to be a valuable member of the crew. You will most likely have to share a cabin with another crew member, which means getting used to having very little privacy and not a lot of time on your own.
The benefit of working on a superyacht is that you get to travel across the world while earning good money. You will have unique experiences, make friends for life, and escape the prospect of dead-end jobs. You may even progress to captain, chief mate or chief steward(ess)one day if that's what you want.
So if you've got what it takes and it excites you, then get yourself ready to land that job!
First steps toward starting your career on a superyacht
While previous experience in the "land-based" hospitality industry is helpful, it's not enough to qualify you for working on board a superyacht. It's essential to invest in specialised training, such as our Standard Courses, to properly equip you for a life and career at sea.
Besides completing yacht and Offshore courses and training, you will need basic STCW Training, which is the minimum legal qualifications required to work on any commercial vessel at sea. STCW sets qualification standards for masters, officers and personnel on seagoing merchant ships and anyone working offshore or on board any yacht in the maritime industry.
What qualifications do you need to work as a deckhand?
By the time you get on board, your captain will need a crew member that can get up and running after a brief induction period. Therefore, obtaining the maximum qualifications before you go is essential. For deckhands, your responsibilities are split between guest-related duties such as tender driving, deck work, anchoring and water sports, or the maintenance – painting, filling and fairing as well as varnishing jobs, plus all other cleaning, polishing and scrubbing duties.
Due to the extremely tough competition amongst deck crew, the suggested basic training certificates for successful employment on board are the following:
STCW 95 Basic Training Certificate + PDSD
RYA Yachtmaster/Coastal Skipper Theory
RYA Yachtmaster/Coastal Practical (Experience/Mileage necessary)
Specialist Super Yacht Training Course (Deckhand Training Course)
RYA Powerboat Level II
RYA Personal Watercraft Course (Jet ski)
RYA Competent Crew Certificate
RYA Day Skipper Theory and Practical Certificates
RYA Radar
RYA VHF Radio Operator's License
Depending on the position you apply for, here's a list of valuable experience to help place you ahead of the competition
It is beneficial, but not essential, to have background training/experience in some of the following:
Previous experience or training: Maritime experience/training, lifesaving experience.
Watersports: driving instructor qualifications, scuba diving, wakeboarding, kiteboarding, water-skiing.
Construction: varnishing, carpentry, building, metalwork, engineering, plumbing.
Therapies: such as manicures, pedicures, massage, aromatherapies, hairstyling.
Au Pair and Nanny experience: teaching, entertaining children.
Any hospitality experience/training: Bartender, waitering, events, promotional work, florist, hotel school, butler, cruise ship experience.
Chef Work: A natural ability and training/experience in restaurants, catering, hotels.
Personality traits: social skills, cultured, good manners, well presented, self-confident, a positive attitude.
Completing additional training to advance your career
Apart from the standard, compulsory, courses required to work on superyachts, there are additional training courses and career progression courses offered by SYSA. These courses are:

RYA Yachtmaster Theory
RYA Advanced Powerboat
AEC (MCA Approved Engine Course)
PADI Open Water 1 and Rescue Diver
To read more about our Deckhand Training or to begin your seaward journey, click here.
As yacht steward/esses, we all know that a busy yacht charter season can take its toll on our physical and emotional health. With long work hours, stressful conditions and demanding guests, we sometimes forget that we also have to take care of ourselves and our precious health.
We have had some wonderful discussions on our Facebook group, Yacht Stewardess and Steward Tips and, for this column, I would like to share some tips on how to stay healthy on charter, even in small spaces as well as some healthy 'between-guest' health rescue ideas.
As another busy Mediterranean season has just kicked off, I'm sure you'll find many of these suggestions soothing to your body and soul. Best of luck to all of you!
Planning for your own wellbeing
As many of you will agree, a busy season can really do a number on our health. Here are some suggestions for before, during and after your charter guests have left.
After all those long hours on your feet, nothing beats a good manicure and pedicure! If you're lucky enough to have a beauty therapist onboard, maybe you can convince them (with some financial encouragement) to treat you to a special mani/pedi. I once worked on a yacht that spent four months in the yard and our captain actually asked the beauty therapist to give every crew member either a massage, reflexology or manicures and pedicures. I guess he felt she had to keep up her skills, but nothing beats a good mani/pedi before and after the season.
Before the charter season starts: 
Schedule visits to the dentist, hair salon, check that all your bills are being paid (arrange debit orders, etc).
It's highly advisable to visit your gynaecologist, dermatologist, optometrist and GP at least once or twice a year and stock up on your medications and multi-vitamins.
Purchase your essentials – such as favourite make-up, beauty products and make-up brushes.
Download some audiobooks and make some playlists for yourself and for guests.
Items to bring on board when joining a new yacht: 
Silk pillowcase, headphones, comfy sleepwear, body lotion (not a strong smell), nail clippers and nailcare items, good sunglasses, one workout outfit (if there is ever time), a bathing suit (that is work appropriate if invited on guest excursions), and an outfit to wear out to dinner with the boss or guests if invited.
Thank you for the music
Get your favourite Spotify playlists ready to go. Spotify is great because you can download playlists for when you have no internet service or WiFi. In Spotify, you can mark selected playlists and sync them to your computer or mobile device for offline listening. You only need to be online to sync the tracks in the first place.
A group member shared some of her favourite playlists with the group (search for Lauren Lubitz on Spotify):
2018 – upbeat songs from 2018
Fam party – some classic party songs
Good day underway – is my underway playlist full of beach/boating and some country songs
Summer Party – a good party playlist for 20somethings
Spring cleaning – playlists for detail cleaning days
Summer cleaning – playlists for detail cleaning days
Peaceful guitar – good background dinner music, but can be repetitive
Happy day – upbeat chill family happy music
Brunch – Sunday morning chill upbeat music
Twinkle Twinkle Little Star – 68 songs for star gazing, all songs say something about stars, galaxy, etc.
Wish upon a starfish – 77 songs about beach, lakes, boats, ocean, etc.
Boca fiesta – Spanish songs for theme night or theme nights
Chillin under the covers – chill cover songs, mostly acoustic
Beach in Hawaii – reggae beach music
Take care of the small stuff
Another must-have to keep on board is a natural hand cream like Aesop ® from Australia as hands feel tired too – a necessity just before sleep on charter.
Cooling gel for legs and feet helps a lot after long hours on your feet! Prior to the season, order top-ups of all your precious creams, which might not be easy to find elsewhere.
It's a good idea to get all your hair removal done prior to a long season – waxing, laser treatments, etc. If you like permanent make-up, it saves a lot of time on charter if you have less make-up to worry about.
Invest in good earplugs, a sleeping mask, dry shampoo, make-up removal wet tissues, BB cream (short for 'blemish balm' cream – it is a versatile combination of products such as moisturizer, primer, SPF, foundation, skin treatment, and concealer). Look into products like Eltamd ® tinted sunscreen, many steward/esses swear by this product.
Stay connected
A busy charter season takes its toll, so be kind to yourself – rest when you can and stay connect with the people who make you happy – it takes five minutes a day to stay in touch with loved ones via Whatsapp or Skype.
A little extra help
Consider investing in a 24k gold collagen eye or facial mask. It's pricey, but it will make your face feel brand spanking new after just one use.
Personally I've also seen the benefits of a B-12 shot once or twice a year. However, it is important to discuss this with your health care professional, as different people react to this treatment in different ways, not always well.
If all else fails, for the first week on holiday just go wild and let your hair down!!
Chief Stews: Ideas for a 'welcome on board' gift for your team
If your yacht's budget allows, it's always a great idea to buy your team a 'welcome on board' or pre-charter gift package. It doesn't have to be expensive, but the gesture will lift their spirits and get them excited for the upcoming season.
Here are some handy ideas for gift packs:
Dry shampoo
Sephora ® face, eye and foot masks
A deep moisturizing hand lotion
Burt Bees ® make-up remover wipes
Resistance bands – easy to use in small spaces like a bow or cabin
Olly ® multivitamins
Ear plugs, body scrub, facial cleansing sponges and wipes
Night cream for eyes or face, eye cream, eye drops, mini hair sprays, mini hair gels, mouth wash, mints
YSL ® brightening pen – one of my favourite must-have items on charter!
Lip moisturizer protection, sunscreen
Lucas' ® PawPaw gel
Hair ties, masks, Eucerin ® Aquaphor hand balm, hangover cure patches
Foot spray and cream from Primark ®
Hair oil shots and under-eye masks
NatraCure ® 5-Toe Gel Moisturizing Socks – they help for dry feet, cracked heels, calluses, cuticles, rough skin and enhances your favourite lotions and creams whilst sleeping
Hydrating face mist
A foot massager
Hair ties/bobby pins in the colour of their hair, as those go missing en masse
Foot rollers/massage balls, hot pack for shoulders/back or for the dreaded tummy cramps
Magic-away makeup remover
Always keep stuff in the snack cupboard – it is always a nice surprise for the different nationalities on board if you have some of their home country's snacks available during a busy charter season.
Arnica sticks or Arnica drops – helps with the dreaded stew bruising and muscle aches
Silicone Gel Socks that you wear at night time after rubbing a peppermint lotion on them
Champagne split bottles or an expensive bottle of wine for after-charter celebration
Compressions socks! A lifesaver when feet are swelling.
CBD balm, very effective and doesn't smell like the traditional pain reliever (if available where your yacht is docked)
Arbonne ® Prepwork Gel Eye masks are great for dark circles and puffy eyes
Tiger Balm
A nice organic pillow spray to help with peaceful sleep
Wine and spa gift cards could be useful if you want to give something small and don't want to cause clutter in the cabin
Before, during and after – time permitting!
Another mani/pedi and a well-deserved massage!
If you are able to go home, take the clothes and items with you that you didn't wear or need. If possible, try to take a mini-vacation.
Detox
Make time for a mini-detox or take a few days for a proper full detox or cleanse. A lymphatic drainage massage might also be a good idea (check with your medical professional if this would be suitable if you have any medical issues). MLD is a very light, delicate, and superficial technique – very different from classic massage, which also moves lymph, but affects muscles, veins, arteries which lie deeper.
Disconnect
Something that I tried to do as often as possible, was to go totally off-radar and go somewhere far, far away from boats. Even checking into a hotel alone for a weekend with your favourite book or TV programme does wonders to energize your body and soul.
For after-season holidays, if you're experienced in the art of yoga, book a yoga retreat, a diving holiday, or a wine tasting trip in France – anything that nourishes your soul and awakens your interest and energy levels, and may add to your steward/ess skill set!
Best of luck to all of you. Always remember to take care of yourselves. When we work in service, it's so easy to focus on everyone around us but don't forget about your own emotional and physical wellbeing!