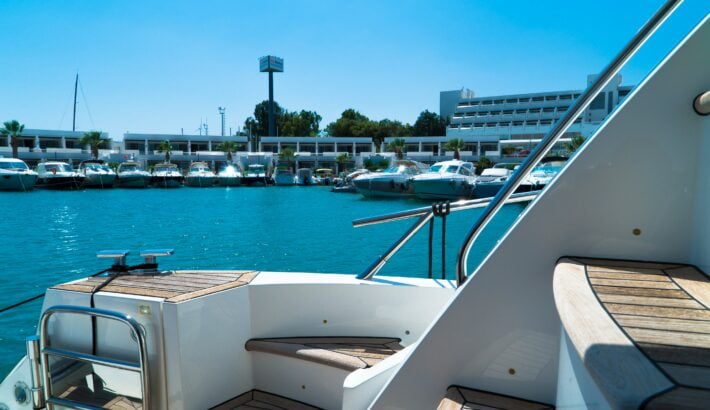 Dock walking, for the uninformed, is exactly what it sounds like. People searching for work on the yachts can just walk the docks and inquire if any crew members want assistance or if there are any job openings onboard. It's a terrific opportunity to get your foot in the door and maybe gain a longer-term career because superyachts are nearly always short of day employees when in port.
Some people mistake that dock walking is just the laborious effort of passing out CVs and inquiring about job openings. It's actually an excellent opportunity to also network with crew and captains in the hopes of landing a job. Dock walking is a hands-on, interactive alternative to looking for a job via agencies. Networking is important in the yachting sector, and dock walking may help you achieve that. It's simple to forget a name from a CV, but it's far more difficult to forget a face you've seen in person. Here are some tips to plan out a successful dock walking session.
Make sure you have your qualifications
Before you even consider applying for a job aboard a boat, there are a few things you need to do to ensure your success. First and foremost, most employers will not even consider you until you have finished the STCW basic training course. It is a basic minimum requirement, and the course lasts around 11 days. Some fundamentals are covered, including marine survival, general first aid, personal safety, and firefighting. It's fascinating information to have, a significant advantage for companies. If you want to work as a deckhand, getting your Level 2 Powerboat license is essential. Going through a reputable yachting school like SYSA ensures that you get the right qualifications for the job.
Finally, have a recent and relevant CV on hand. Day work is unlikely to be your ultimate goal; therefore, bring your CV with you to give it over at the end of the day and apply for the job you desire.
Timing
Try to arrive at the docks first. Most yachts begin their working day at 8 a.m., arriving by 8:15 a.m. with CVs in hand. Crew members are getting down to business, and the marina hasn't yet filled up with eager yachties. The captains and crew will be impressed by your discipline, but they will also be relieved that the procession of other dock walkers hasn't worn them out. I'll know first thing in the morning if we need day workers for the day, and it'll be first come, first served.
The afternoon is also an excellent time to go. However, between 12 and 1 p.m., do not attempt to dock walk. It's crew lunchtime, and disrupting the workers at their mealtime isn't ideal. After completing most of the daily tasks, the staff will be more relaxed. They'll be more willing to spend a minute or two chatting to you and pointing you in the right direction.
What to wear
Dress comfortably and appropriately while maintaining a professional appearance with your hair and cosmetics. Bring an additional t-shirt in your plain, simple luggage, and you don't mind getting dirty — if you are successful with daywork, it will almost certainly be a dirty job, and you don't want to destroy your "interview" clothing. If a boat is looking for day labourers on that particular day and thinks you'd be a good fit, you can be invited to come on board right away. Consider dock walking to be a day of speed interviews, and dress as though you're meeting with a Chief Stewardess/Bosun for an interview.
It might be a long day, so bring a water bottle and some snacks.
Before you go – Be Prepared.
Start the day with a clear plan. Make a list of all the docks you wish to visit and how you'll get there. Make sure your phone is fully charged and, if feasible, bring a power bank in case your battery runs out — you never know when you'll be contacted about a job!
If you're going to use business cards (Which is a good idea as it looks very professional), have them available. You can even create them yourself – there are a lot of wonderful websites out there that provide templates and are reasonably priced.
Present yourself in a professional manner
The yachting business places a premium on presentation. Before you've opened your lips, the way you're dressed says a lot about you. The time and effort you put into polishing your look will signal to the skipper how much time and effort you'll put into making sure the yacht is in top shape. As a result, make sure your clothing is ironed and pristine, your hair is styled and out of your face, and your shoes are polished and free of scuff marks. Your CV must be flawless. Spelling issues, grammatical faults, and inaccurate information may hurt your chances of landing a job.
What to expect on the day
It might be difficult to get a crew member's attention. You may feel like you're bothering them, and your nerves may get frayed. Get rid of your anxiousness. Only through practice will you be able to achieve this. You'll grow better at dock walking the more you do it. Most crew will reply if you stand next to the boat on the dock, smile politely, and wait patiently for them to approach you. It's best to avoid calling out to them since you can come out as rude.
It's a numbers game when it comes to dock walking. You may have a day when you talk to four or five different yachts. Don't get disheartened if some days are slower than others and you just hand out one CV. Almost every member of the crew has had to dock walk for work. It's a rite of passage of sorts. Even when they say they don't need any additional personnel, you'll find yacht workers to be courteous and understanding. Keep the faith, even if they're obnoxious and distant. You'll be able to find a job eventually.
Many dock walkers make the mistake of going directly to the larger superyachts. They assume that there will be more money and/or a higher need for more staff. They overlook that smaller ships may provide work possibilities that are better suited to their qualifications and expertise. You are free to be ambitious, but think about how much aid and direction you can get from others while working in a small, close-knit team rather than finding your way among a fleet of crew members. You may lose out on a sure-fire career chance by underestimating smaller boats.
Finally, have a good time with it. Every dock walk should be viewed as an opportunity to meet new people in the yachting sector, learn new things about the industry, and create contacts with individuals who can assist you in the future. People will recall your vivid personality as a welcome addition if a job vacancy arises when they encounter your excellent manner.
Maintain an optimistic attitude! You will almost certainly receive a lot of rejection, but don't let that discourage you. The appropriate employment is out there; you have to continue and keep your objectives in mind.