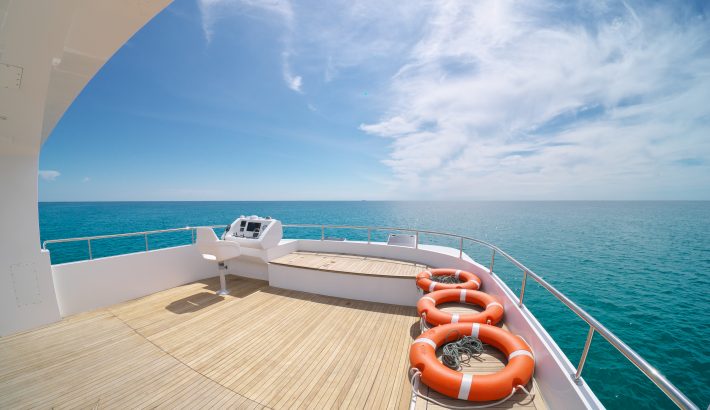 If you're ready to ditch your office job for something more exciting, and the sea is what calls you, then we've got some tips on how best to land a job on a superyacht. Yachting is not just a job, it's a lifestyle and a career, as the work doesn't start at 9 and end at 5 – it's twenty-four hours, seven days a week. So first of all, it's essential to make sure that it's a good fit for you.
Should this be your first job at sea, it will most likely be an entry-level crew member such as a deckhand/steward(ess), so you will be expected to work hard, be a good team player, and do what it takes to be a valuable member of the crew. You will most likely have to share a cabin with another crew member, which means getting used to having very little privacy and not a lot of time on your own.
The benefit of working on a superyacht is that you get to travel across the world while earning good money. You will have unique experiences, make friends for life, and escape the prospect of dead-end jobs. You may even progress to captain, chief mate or chief steward(ess)one day if that's what you want.
So if you've got what it takes and it excites you, then get yourself ready to land that job!
First steps toward starting your career on a superyacht
While previous experience in the "land-based" hospitality industry is helpful, it's not enough to qualify you for working on board a superyacht. It's essential to invest in specialised training, such as our Standard Courses, to properly equip you for a life and career at sea.
Besides completing yacht and Offshore courses and training, you will need basic STCW Training, which is the minimum legal qualifications required to work on any commercial vessel at sea. STCW sets qualification standards for masters, officers and personnel on seagoing merchant ships and anyone working offshore or on board any yacht in the maritime industry.
What qualifications do you need to work as a deckhand?
By the time you get on board, your captain will need a crew member that can get up and running after a brief induction period. Therefore, obtaining the maximum qualifications before you go is essential. For deckhands, your responsibilities are split between guest-related duties such as tender driving, deck work, anchoring and water sports, or the maintenance – painting, filling and fairing as well as varnishing jobs, plus all other cleaning, polishing and scrubbing duties.
Due to the extremely tough competition amongst deck crew, the suggested basic training certificates for successful employment on board are the following:
STCW 95 Basic Training Certificate + PDSD
RYA Yachtmaster/Coastal Skipper Theory
RYA Yachtmaster/Coastal Practical (Experience/Mileage necessary)
Specialist Super Yacht Training Course (Deckhand Training Course)
RYA Powerboat Level II
RYA Personal Watercraft Course (Jet ski)
RYA Competent Crew Certificate
RYA Day Skipper Theory and Practical Certificates
RYA Radar
RYA VHF Radio Operator's License
Depending on the position you apply for, here's a list of valuable experience to help place you ahead of the competition
It is beneficial, but not essential, to have background training/experience in some of the following:
Previous experience or training: Maritime experience/training, lifesaving experience.
Watersports: driving instructor qualifications, scuba diving, wakeboarding, kiteboarding, water-skiing.
Construction: varnishing, carpentry, building, metalwork, engineering, plumbing.
Therapies: such as manicures, pedicures, massage, aromatherapies, hairstyling.
Au Pair and Nanny experience: teaching, entertaining children.
Any hospitality experience/training: Bartender, waitering, events, promotional work, florist, hotel school, butler, cruise ship experience.
Chef Work: A natural ability and training/experience in restaurants, catering, hotels.
Personality traits: social skills, cultured, good manners, well presented, self-confident, a positive attitude.
Completing additional training to advance your career
Apart from the standard, compulsory, courses required to work on superyachts, there are additional training courses and career progression courses offered by SYSA. These courses are:

RYA Yachtmaster Theory
RYA Advanced Powerboat
AEC (MCA Approved Engine Course)
PADI Open Water 1 and Rescue Diver
To read more about our Deckhand Training or to begin your seaward journey, click here.