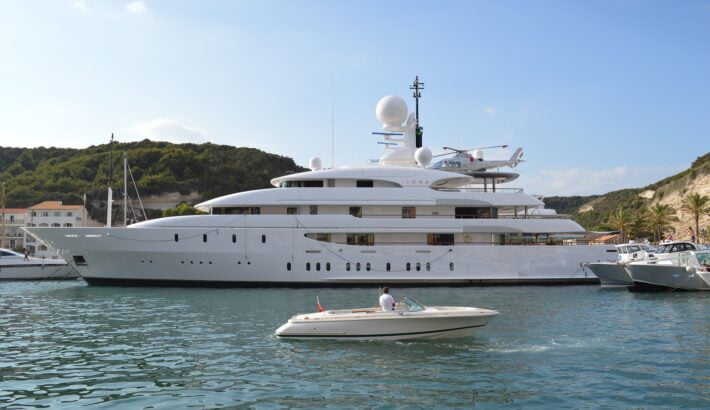 When you're in yacht charter mode, prepare yourself for a whirlwind. Charter season is a stressful, chaotic time of year, and the phrase "organised chaos" pretty well covers it up. Anything goes depending on the timetable of your boat and your position onboard. You may be working the morning shift, which means you are awake before the guests and anticipate their requirements before they ever enquire. You are with the guests during your shift and at their beck and call until you are done with work. Charters can have schedules, but they are rarely followed because everything depends on the guests' lifestyle. When on charter, you must be adaptable to change and always be on your A-game. Days are long and fast-paced but also exciting and fulfilling, so if you can keep it together and get through it, it'll all be worth it in the end.
Here are some DO's and DON'Ts to keep in mind when working onboard a superyacht charter.
Have a positive attitude
Your attitude no doubt shapes your experiences and that of those around you. If you're in a negative headspace, this can also impact the guests onboard that interact with you. Remember, it's about what you can give the boat, not what it can give you. Captains are searching for someone with a positive attitude and a huge smile! You must be a person who is not scared of hard work and is content to live away from home for extended periods. Be an open book and never stop learning, the industry is fast-paced and exciting, and by keeping an open mind and continuously learning about the industry, you'll never be bored.
Work as a team and build relationships with your fellow crew
Living and working with the same people in a small space may be difficult. However, if you know how to tackle the problem ahead of time, it'll be just another swell under the bridge for the boat crew. It doesn't take a brain surgeon to realise that a team can go a long way in working and living together with a bit of bonding. That is why it is critical to keep up with this topic. Being liked and forming friendships with every crew member may benefit you in your daily work-life on board and in ensuring your job's sustainability. Bonding over shared interests and hobbies rather than the job at hand can help relieve tension and bring some pleasure back into the workplace. Instead of simply working settings, crew meals and evenings out and day trips and other activities spent together may significantly assist speed this process ahead.
Put yourself in other people's shoes
While we recommend having an open mind and a go-getter mentality for this business, the hard labour, stress, and cramped quarters can often get the best of us. Sometimes people are simply having a terrible day, and other times you may discover those specific individuals have a nasty attitude. While you're attempting to preserve the peace, why don't you ask this person if anything is upsetting them? If there appears to be a reasonable cause, provide advice or simply lend an ear to help them vent. If all else fails, offer to continue cleaning the bathroom while taking in some fresh saltwater air to gain some perspective. You'll look like a rockstar, and you might as well have won all future battles against bad energy.
Take some me-time
This one may be essential to some more than others, but taking time for yourself while working on a boat may make a world of difference in any of the circumstances listed above. Recognise when you require some "me" time and don't hesitate to take advantage of it. If declining a group activity would result in a more positive attitude toward everyone in the long term, your coworkers will understand — as long as you bring it up in a non-judgmental manner.
Make sure you're prepared for anything in case of an emergency
From the get-go, make sure you're prepared for an emergency. It might seem unlikely when things are running smoothly, but as a yachtie, you don't just have your life in your hands – you have all the guest's lives in your hands as well. Because of all your training, you should be familiar with the safety precautions in place on all boats. If not, perhaps another exercise should be planned as soon as possible!
In the event of a boat evacuation/abandon ship, you should have the following items:
Dingy or life raft that can withstand the elements.
Everyone should have a personal flotation device (PFD) and, if you're in a chilly region, a dry suit.
Bottled water — enough to last several days for everyone on board
Good radio transmitters, EPIRBs (Emergency Position Indicating Radio Beacons), and SARTs (Search and Rescue Transponders) are all examples of good radio transmitters.
Enough anti-seasickness medicine for everyone
Kit for first aid
Maintain boundaries with guests
Just like in any other workplace there need to be boundaries. Sometimes you may be onboard for weeks on end with the same guests and it's inevitable that relationships form. However, the superyacht is a workplace like any other, and the same standards that doctors have to uphold with regards to relationships with patients should be practised. For the most part, it's safe to interact with guests platonically, but you also need to remember when to draw the line. Having romantic relations with guests/crew is not an option. Set boundaries and maintain those boundaries, and you shouldn't have a problem.
Don't do anything illegal
Onboard boats, there is zero tolerance for unlawful or criminal activity. Any such behaviour will result in the seizure of the boat and the loss of the license. Therefore the captain and fellow crew will report you to the authorities. In most nations, such behaviour is also punishable by imprisonment. Don't involve yourself in unlawful activities and risk losing your job or any chance of working in the industry.
Avoid taking matters into your own hands
Any concerns should be reported to your senior crew members since they are the only ones who have the power to resolve them. Avoid taking issues into your own hands, whether with fellow crew members or, especially, with a guest. Also, keep in mind the saying "The customer is always right." and remember that you're a representative of the yacht and uphold yourself in a manner that best represents your employer. If guests have a negative experience interacting with you, this could damper their experience onboard.
Don't violate the no-smoking policy
Smoking is forbidden on most yachts, although there may be designated smoking spaces on the deck. If you smoke, ensure your supervisors are aware of this from the start.
Working aboard a superyacht charter is unlike any other job, and you'll have more unique experiences than you ever imagined. Approach it with an open mind while being mindful of others, and you'll no doubt have an incredible experience onboard.