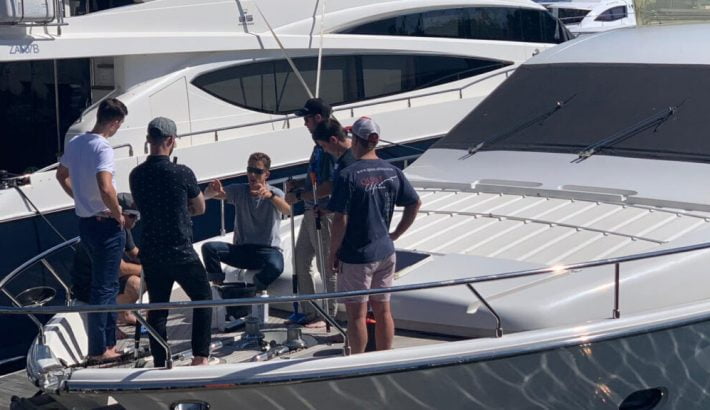 Up until 2019, the super yachting business was growing from strength to strength with no end in sight, then 2020 and the pandemic hit. Like almost every other industry, the yachting industry was dealt a major blow. The COVID-19 pandemic and the ensuing lockdowns and new regulations basically shut down the travel industry, not to mention how it has affected the global economy since.
This has left those wanting to pursue a career in super yachting at a loss as to where to go or what to do now. We discuss some of the harsh realities of the impact of the pandemic on the industry, as well as how best to use your time right now.
The reality of super yachting during a pandemic
At the start of the pandemic, there was this huge unknown. As lockdowns were implemented like the Mexican Wave across the globe it became increasingly difficult to move and place crew members, processes like booking flights, attaining correct documentation and visas for joining and disembarking crew members in each port was hindered by national border closures and airports. Some crew members had to remain at home for extended periods of time before they could go back to their contracts, others had to remain on board for between 6 and 11 months until airports and repatriation were allowed by certain governments.
It was a complicated time, and as 2020 progressed, it didn't get any easier. April normally signalled the start of the yachting season and yachting crew would begin their hunt for work. However, with no vaccine in sight and the crippled economy, yacht owners were being more cautious than ever about new hires or were running on a skeleton crew. Recruitment took a dive.
However, 2021 brings with it more hope as vaccine roll-outs begin. While it is still difficult to predict the future of the industry we can already see that more countries are opening up their borders for travel. The vaccination programs being implemented everywhere could start a trickle of new business for the industry.
Many hopeful superyacht crew members are wondering what to do right now that could help further their career or bolster their chances at landing a job as recruitment picks up. We've got some suggestions.
Use this time effectively, upskill yourself.
Now is the ideal time to reinvest in yourself. Take the time to improve your CV; learn new skills and do courses that will build valuable skills that no employer can resist. When the job opportunities start to roll in again, you will be ready and highly qualified to apply and even have a better chance at landing a position.
We have a list of superyacht courses for crew members that we offer, which include:
If you'd like to get in touch with our team to find out more about superyacht career training and what one needs to become a crew member on a superyacht, we can certainly help you.
Possible changes to the industry
The future of yacht charter is most definitely going to look different post-pandemic, and it is difficult to predict exactly how but we have observed certain changes already in effect.
Higher need for refundable bookings and added clauses in contracts
Stricter tests for captains and crew to ensure they are COVID-19 free
Should see an increase in private charters once things are back to normal (people opting for private yacht charters over ocean liners due to health concerns)
Future job security for superyacht crews
The reality is that currently a lot of positions have been put on hold, with yachts operating on skeleton crew only. However, this will be temporary and the vaccine roll-out brings with it the hope of a renewal of interest in nautical travel for leisure. The availability of the rapid tests also means that international travel is expedited in most cases without the need for longer quarantine times – which is a win for both travellers and crew members.
Many yacht owners are restricting recruitment to only candidates based in the same country, making it easier to join the crew with no travel restrictions or quarantine periods. This too will be temporary because crews look for diversity and high quality in new recruits – and the bigger the pool the higher the likelihood of fulfilling this.
Looking forward, we are hopeful that things will turn around and that the yacht crew job market will make a full recovery. We just urge students to use this time as best as they can to prepare for when it does.