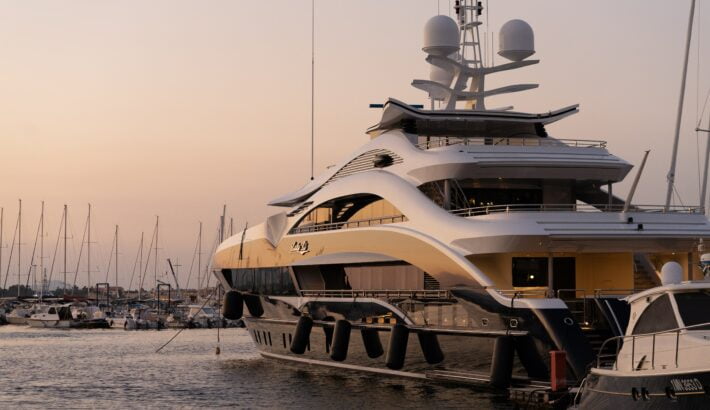 There are various paths you may follow if you want to pursue a career in super yachting, but just like every other industry, there are important certifications and the bare minimum requirements that employers look for. Although having prior training or experience in the hospitality sector is advantageous, it is not always required. If you're searching for your first job on a superyacht, it's important to note that some training courses are essential, and without those under your belt, potential employers are unlikely to even consider you.
Whether it's your first job or you want to advance your super yachting career, the correct training guarantees crew members have the necessary skills to navigate and thrive onboard.
It might be difficult to understand the various yachting certifications necessary for each function onboard a superyacht. With this in mind, we've broken it down into requirements for working as a deckhand and as a steward.
STCW Basic Training
If you haven't taken the STCW Basic Training course, which is necessary aboard any commercially registered boat, it will be difficult to find work in the yachting industry.
STCW basic training is the mandatory minimum requirement for working on any commercial ship at sea. STCW establishes minimum qualifications for masters, officers, and crew members of seagoing commercial ships, as well as anybody operating offshore or onboard any boat in the maritime business. All sea-going merchant ships must keep a copy of the STCW convention aboard.
The STCW 2010 course at Super Yachting South Africa lasts 11 days and covers the following topics:
Marine Fire Fighting
Personal Survival Techniques (PST)
Personal Safety and Social Responsibility (PSSR)
Proficiency in Dedicated Security Duties (PDSD)
Elementary Maritime First Aid
The STCW certification is valid for five years from the date of completion and provides you with everything you need to get a job on commercial ships, cruise ships, or superyachts.
Yacht deckhands
A deckhand is a position that is available on a superyacht and is often an entry-level position. A sailing certificate is not required, but it will always be recommended, as it will help you stand out from the crowd.
The STCW Basic Safety Training is the minimal prerequisite for work as a deckhand, however, a good deckhand will additionally have the following abilities and certificates:
STCW 95 Basic Training Certificate + PDSD
RYA Yachtmaster/Coastal Skipper Theory
RYA Yachtmaster/Coastal Practical (Experience/Mileage necessary)
Specialist Super Yacht Training Course (Deckhand Training Course)
RYA Powerboat Level II
RYA Personal Watercraft Course (Jetski)
RYA Competent Crew Certificate
RYA Day Skipper Theory and Practical Certificates
RYA Radar
RYA VHF Radio Operator's License
Yacht stewards/stewardesses
The priority of a steward or stewardess is to care about the visitors and the yacht's interior. In most circumstances, a chief stew will oversee a team of assistant and junior stews — an excellent way to break into the profession. A superyacht steward/ess wears many hats, think housekeeper, waiter, safety officer, guest relations, butler, laundry expert, florist and well-groomed host/ess.
The STCW Basic Safety Training qualification and an ENG1 Medical Certificate are the minimal qualifications for working as a stew. Background training/experience in any branch of the hospitality industry is tremendously advantageous, but not required, for a job as a Steward/ess. The SYSA Steward/ess Course integrates your previous hospitality knowledge to the duties of a Steward/ess on board. Because there are very particular jobs on board that you have not been allocated as a "land-based" hospitality expert, being a certified or experienced waiter/bartender/events planner does not make you ready and qualified to be a Steward/ess on board. Our Steward/ess Course focuses on safety at sea, silver service, and wine serving procedures used on yachts, among other topics.
The following are the training requirements for an entry-level Steward/ess:
SYSA Steward/ess Training (5 days)
PDSD and STCW Basic Training (11 days)
Catering Level II MCA/Highfield Food Health Safety (2 days)
MCA Medical Certificate ENG 1
At SYSA, we assist our graduates in professionally preparing a yacht standard CV, provide confidential assessments to potential employers, and advise you on job opportunities, visa applications, career progression, offshore bank accounts, and Seaman's Discharge books as part of our service to candidates looking to work in the superyacht industry.
We are an experienced training school that concentrates solely on the superyacht industry, with qualifications ranging from the bare minimum requirements to work on a superyacht to multiple value-adding courses that will help enhance your CV. The courses we provide are designed to help our students stand out from the crowd when joining this highly specialised and professional field. The superyacht sector is an exciting and fulfilling place to work, and experienced crew training courses are a must for life on board.